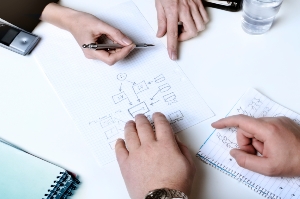 Business Process Reengineering, Mapping and Redesign Services
RTC's experts perform business process reengineering using the latest modeling tools, methods and techniques, targeted to client aims and objectives. Our strategic business process reengineering approach is enterprise-wide and can include concurrently a review of enterprise data requirements (and data modeling).

Get an enterprise-wide overview
Communicate & agree on process requirements
Document current policies & procedures
Reveal time delays & convoluted flow paths
Improve existing business processes
Envision future systems options
Example of a Recent BPR Engagement:
CA Department of Industrial Relations
Provided guidance and expertise to DIR and a RTC team of consultants to review DIR's Accounts Payable and Budgeting functions, researching benchmarks and best practices at other State agencies, recommending process streamlining/improvement and systems enhancements. Developed two enterprise-wide data models for DIR Accounts Payable and Budgeting units, including detailed narratives, glossary definitions of entities, and all data interrelationships. Other deliverables included process flows, staffing and workflow improvement suggestions, forward plans and schedules, and best practices for implementing CalATERS for expense reporting.